Durable Laminate Flooring in Humble, TX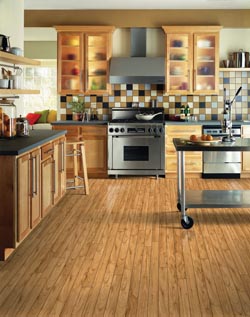 Enhance your home with high-quality laminate flooring in Humble, TX from Marshburn's Flooring America. Our warehouse showroom is fully stocked with an incredible inventory of various flooring options, including stylish and durable laminate wood flooring. We are proud to offer you an impressive selection of affordably priced flooring that will serve as an investment to improve your home, increase its value, and beautify the interior style and décor!
The Natural Beauty of Laminate Wood Flooring
Modern laminate flooring is available in a wide array of beautifully crafted designs. For example, laminate wood flooring is enhanced with the visual design of wood grain that vividly swirls in each piece, giving the appearance of solid hardwood! We offer a variety of grain styles to suit your personal taste, whether it's subtle, moderate, or prominent. This masterful construction is just one benefit of laminate wood flooring. It is cost effective and also provides reliable durability and dependable resiliency, making it an excellent choice for areas of the home that get high traffic.
Deluxe Laminate Tile Flooring
Achieve ornate appeal at a budget-friendly price when you choose laminate tile floors. Artisans have exquisitely created geometric patterns and color effects that enhance our long-wearing laminate and allow you to furnish your home with decorative function. We offer a broad spectrum of hues and designs at affordable rates so you can be sure to find the right style of laminate tile flooring at the best price! Whether you fancy a classic or modern design, our experienced sales associates can help you select the style that fits your personal vision and home's theme. We are proud to stock an impressive selection of brands from leading manufacturers in our showroom, such as:
Mannington®
HomeCraft®
Mohawk®
Pergo®
Shaw®
Armstrong®
The Benefits of Laminate Floors
There are numerous qualities of laminate floors that will benefit your home! Their multidimensional textures and rugged durability will increase the elegance and value of your house all without breaking the bank. This balance of resiliency, pricing, and style means that you can bring your decorating dreams to fruition without going over your budget or sacrificing quality. The technology used in creating laminate floors and their superior finishes lend a durable longevity to this amazing flooring option. Scratch resistance and easy cleanup are other benefits to laminate floors, allowing you to spend less time with the upkeep of your home and more time enjoying it!

Another benefit of laminate floors is their layered construction, which helps them absorb the daily use and heavy traffic of an active family while still maintaining durability and style. Laminate floors are engineered in four layers, each playing a crucial role in protecting the integrity of your flooring:
The wear layer protects against stains, fading, and surface burns.
The design layer has a high-resolution photograph of the surface appearance, providing a variety of looks such as ceramic, hardwood, or tile.
The core layer is constructed with durable high-density board, protecting against moisture and indentations.
The back layer protects the planks against moisture and offers stability to help balance the floor.
Laminate Flooring Installation
Once you select your beautiful new floor, contact our experienced team for professional laminate flooring installation! Our local warehouse is operated by a trusted network of qualified flooring experts who are ready to help you implement your new floor. Our laminate flooring installation is efficient, accurate, and backed with a 100% guarantee against defects.

Visit us today to browse our selection of laminate floor products and to schedule your new flooring installation!



Contact us today at <PHONE> to learn more about our quality laminate flooring! We proudly serve the communities of Humble, Kinwood, The Woodlands, Houston, and Huffman, Texas, as well as the surrounding areas.